How to Drive Planet Earth, a DIY Kit for Overlanding Country by Country, and off-road adventurers Overlanding in a 4x4 Camping Truck across Australia and Across the World.

Our Philosophy:

"You only visit this planet once, so better see it before you leave!"

That and an adventurous spirit has taken us backpacking and Quad Biking along most of the isolated beaches of Cape York, GPS navigation across Australia's vast deserts, and around a quarter of a million kilometres overlanding Asia, Russia, Europe, and the Americas. We are currently overlanding Africa.

Through free information provided here, our desire is to encourage others is travel our world in a like manner.

Kym and Lyn Bolton                    Where are we Now ?

GoannaTracks  International Travels                       GoannaTracks  Australian  Travels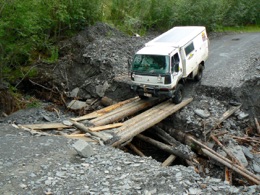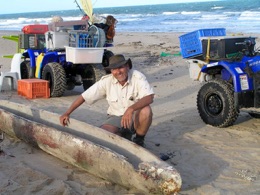 Road of Bones, Russia 2007                                                            Cape York Exploring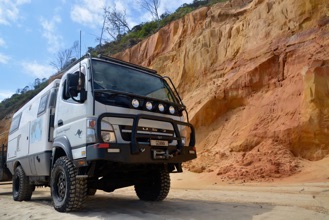 Along the way we find some things work others do not. One product developed from such experiences are our Super Single Wheels for Fuso, Iveco and Isuzu 4x4 vehicles. 

See: www.TruckSuperSingles.com.au

AND... over the last 3 years I have designed and developed for the tough Australian conditions a new 37x12.5 R17 tyre with the worlds highest load rating for this size tyre.

TRACKMASTER is load/speed rated at 131N that is a massive 1950Kg and 140KPH and thus applicable for Light Trucks up to 7000kg !

Note the massive 8mm thick Side Biters

....AND here is a sneak preview of something about to happen on the Overland/Expedition vehicle stage....and also finally at an affordable price calculation.

www.discoverymotorhomes.com.au